… Calls For Increased Patriotism, Professionalism Among Officers
… Says Security Is Everyone's Business
Ogiame Atuwatse III, Olu of Warri. has called for rededicated and Increased patriotism and professionalism among all cadres of the Armed forces and other security agencies in order to combat insecurity and all forms of bandictory and vandalism.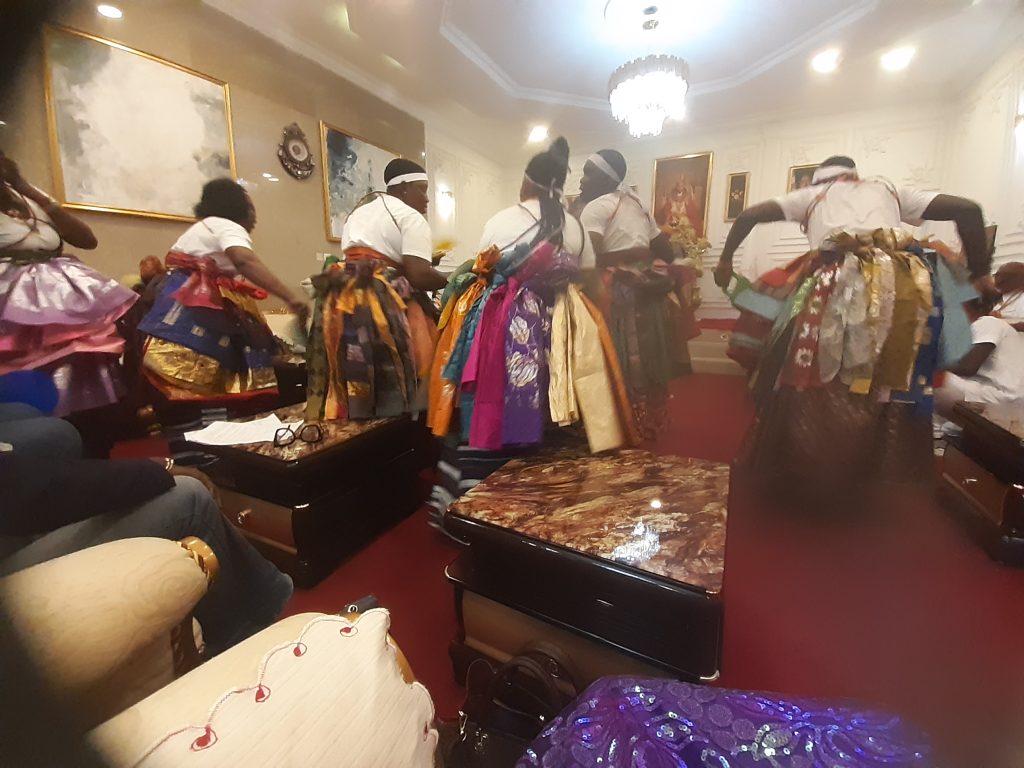 He made this appeal during a courtesy visit to him by members of the Prayer Support Group for Armed Forces and other Security Agencies.
The Olu commended the Group for their great initiative and all they are doing towards ending insecurity. His Majesty however advised all security agencies not to allow water to get into the canoe so as to avoid crisis.
Accordingly to him, there is a need for a strong sense of professionalism, patriotism devoid of biases, favouritism, tribalism and openess to honest counsels among our security agencies.
"Sincerity of purpose among our security agencies is very important. I am confident that their trainings are up to task and we will continue to assist with the needed information to assist in intelligence gathering to combat insecurity, oil theft and vandalism." Olu of Warri concluded.
In her speech, the Convener of the group, Mrs Mary Abayomi-Fatile implored his Majesty to prevail on youths to end all forms of vandalism, kidnapping and oil theft across the communities.
"We need to cooperate with our security agencies in achieving the desired results.
We believe so much in all our traditional rulers and their influences and positive impacts on their subject's, hence, the essence of this courtesy visit. With the cooperation of our youths and community leaders, insecurity will be a thing of the past."
She mentioned the group has been doing advocacy with various groups in communities, churches and mosques, with a coming two-day event in Lagos with the theme; "Security in Nigeria and Civilians Participation".
"We need more sensitisation of Nigerians on the enormous efforts of the Military and paramilitary, in the fight against insurgency, kidnapping and armed banditry among other acts of criminality bedeviling our country."
She also called for the support of his Majesty in changing the wrong perception of some members of the public about the military and other security agencies who put their lives on the line to ensure a safe society for all.
In addition, she called on the teeming youths to collaborate with the Nigerian armed forces and other security agencies to see an end to insecurity in Nigeria as they cannot fight it alone.
"Furthermore, saying negative things about them will not help the situation in the country, we need to come together to conquer these security challenges.
Some of these people have not seen their families for close to a year. We are here in our comfort zones while some of them are in the bush come rain or sun. They seriously need our prayers."
"There is tension already in the nation, let's be conscious of the things we say and pass round.
We must defend the nation and pray for the betterment of Nigeria as security is everyone's business."
"As a group, we believe that with God, everything is possible. Everyone must remain security-conscious and dial security numbers in case of emergency or security breach." She concluded.
This is a media advocacy prayer support group made up of some senior Journalists, Crime and Defence Correspondents established in March, 2021.
"We have noted the challenges as well as the succeses recorded by the Military in the ongoing fight against insurgents, kidnappings and banditry across the country."
Part of the advocacy is to seek for the support of our traditional rulers to galvanise community support for our Armed Forces and other security agencies because we believe there's urgent need to engage and mobilise Nigerians for special prayers and support for our gallant soldiers."