… Says Governance Is winning Heaven or Hell
… Any Unlawful Take over Is Evil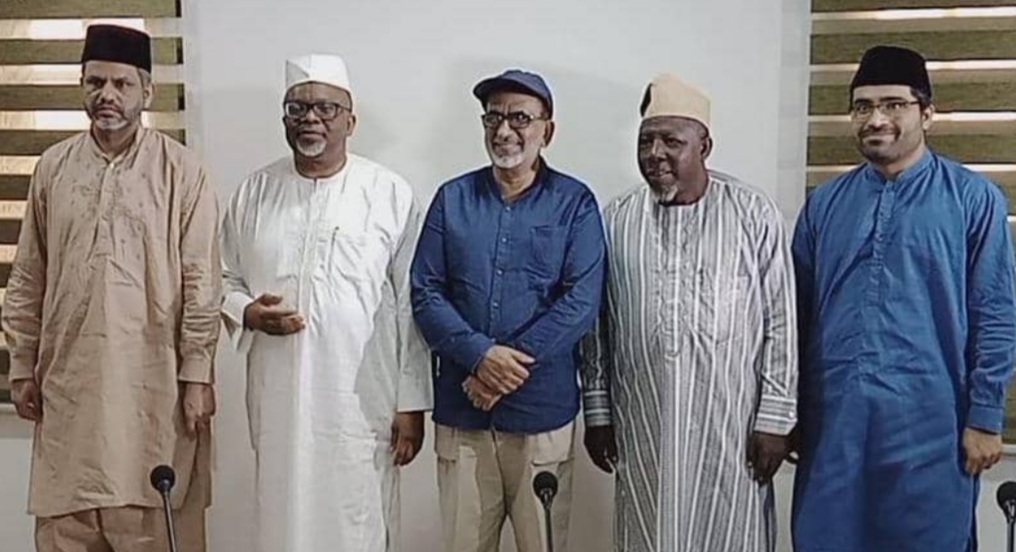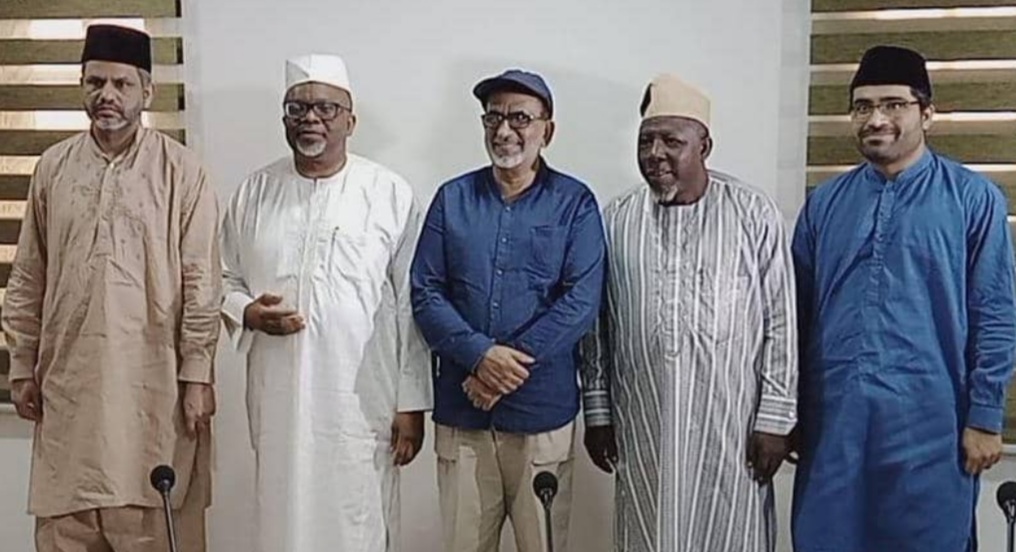 Missionary in Charge, Ahmadiyya Muslim Jamaat, Nigeria, Maulvi Adnan (left); Amir, (Head) Ahmadiyya Muslim Jamaat Nigeria, Alhaji Alatoye Azeez Folorunso, Medical Director, Ahmadiyya Hospital Ojokoro, Dr Semiullah, Head Elders Forum, Engineer Adeoye, and Head of Rakeeb Press, Ahmadiyya Press, Sadr,Ansarullah after the press briefing in Lagos.
Barrister Alatoye Folorunso AbdulAzeez, the Amir (National Head) of Ahmadiyya Muslim Jama'at of Nigeria has appealed to the incoming administration of Asiwaju Bola Ahmed Tinubu to make transparency and accountability her watchword.
This advice was given in Lagos recently at the press conference on State of the Nation.
He appealed to the President, National Assembly, Governors and House Assembly Elects, to see power given to them as what they will be accountable to God for.
Hence, they must deliver on their duties of trust and competences to the satisfaction of almighty Allah.
"We thank Almighty Allah for the successful conduct of the 2023 general elections across Nigeria. The election raises some fundamental issues that need to be addressed from religious perspectives.
These issues include: ownership of government, accountability to Allah and the people, the concept of trust and competence, duties of the electorates, duties of the elected ; and duties of the ruled to the government.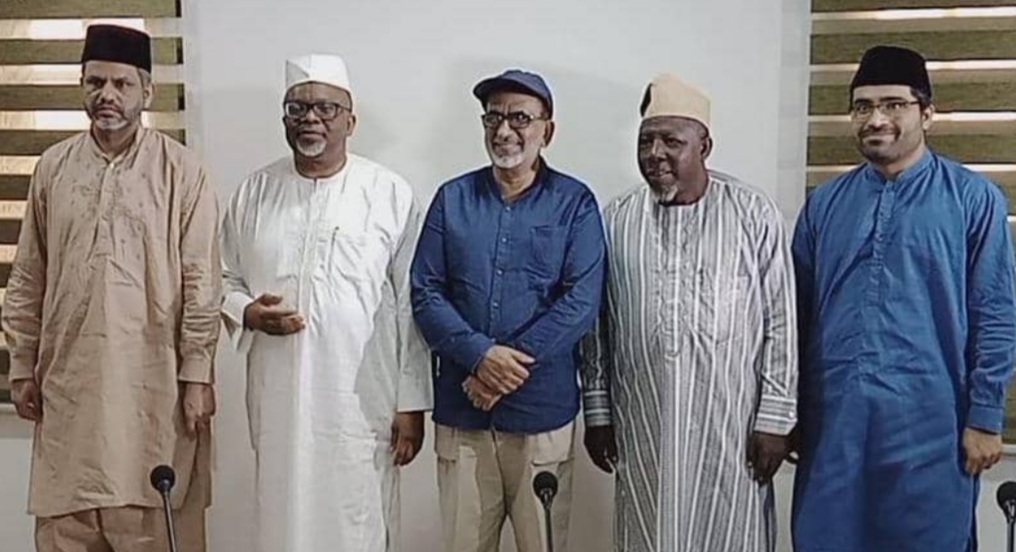 According to the Amir, there is need to evaluate our performances, try to reposition ourselves and correct our actions as much as possible for better future.
"Universally, it is time we project very clearly that Allah is the owner of government and governance must be in accordance with His universal rules equally applicable to all."
"In Islam, the basic concept is that SOVEREIGNTY OVER THE UNIVERSE BELONGS TO GOD. Mankind as representative of Allah is vested with authority in certain spheres AS A TRUST for which they are ANSWERABLE and ACCOUNTABLE to God. This is contained in Qur'an 3: 27-28.
The rules that has no religion, color, or creed. Those rules incluse truthfulness and avoidance of deception, justice and faimess, goodness, giving the rights of others to them, avoidance of evil, avoidance of indecency, avoidance of rebellion and promotion of peaceful co-existences with all humanity inespective of tribe, color or race.
He urged those elected or appointed to be accountable to Allah and to men that elected them.
"The fact that politicians avoid accountability to men with impurity make it looks like they can avoid accountability to Allah. That is naivety of the highest order and living in fools paradise."
"We wish to draw the attention of all elected leaders to accountability to Allah the Almighty God. It is unavoidable. Governance is question of winning heaven or hell. No one can threaten anyone with heaven or hell but forgetting it totally in our dealings is suicidal in our next phase of life."
According to him, remembering this accountability goes a long way to douse the tension of seeking for elective posts and for those elected to be extremely careful and cry to Allah day and night on how they should not fail in their accountability and end up in hell.
Alhaji Alatoye called on electorates to focus on competence, being accountable and not tribalism, nepotism, religious bigotry and racial discrimination.
"Rebellion, gangsterism, forceful imposition in the act of selecting a leader is alien to the teachings of Islam. It is totally wrong to group or gang up to endorse a candidate."
It is wrong for elected or appointed people to use power to convert the land, positions, money, or any other resources entrusted to them for their personal use. They will be building their hell rather than paradise with that. Their reward is in the correct application of the resources without taking a dime that does not belong to them."
Speaking on lessons learnt in the just concluded elections, he commended positive performances like legislative amendments to support credible elections, the assurances of the current government and Independent Electoral Commission, allocation of huge resources, increased turnout of voters and actual casting of the votes, announcement of results and most importantly, availability of grievance procedures through tribunals and courts.
"However, in the execution, obviously there are so many areas of improvement required. Notably; management of vote buying and resources mobilization for election that led to cash crunch and fuel scarcity occasioning untold hardship on the people, instances of threat of violence, disruptions of electioneering processes and casualties, in some places, failure in the transmission of election results, engineering of voters apathy as a result of all these failures."
"I also encourage the voters not to be discouraged but look forward to continuous delivery of their duties to Allah as a commandment to select leaders that are trustworthy and competent.
Leaders should focus on Good Governance, Welfare And Security of All Nigerians Irrespective of Political Affiliations, Tribe, Religion or Class
The election has come and gone. It is now important to avoid all negativities such as call for subversion of the concluded processes or interim government or any form of rebellion or insurrection. Any unlawful take over is an act of evil. It is an ill wind that will blow no one any good.
Let all the leaders and the led focus on the act of governance and leave every other thing in the hands of Allah to whom all are forcefully accountable and on human side to the tribunals and courts that are saddled with that responsibility.
The focus now for all should be good governance, transparency, and accountability. By good governance, I mean focus on welfare and security of all the people of Nigeria in all ramifications.
In conclusion, he urged all elected leaders and the led to always reflect upon the declaration of the Holy Prophet Muhammad (peace and blessings of Allah be on him) that: "The best of your leaders are those whom you love and who love you, and who invoke Allah's blessings upon you and you invoke His blessings upon them. And the worst of your leaders are those whom you hate and they hate you, and whom you curse and they curse you," (Sahih Muslim).
"It is not out of place to state that, as far as the Ahmadiyya Muslim Jama'at and its members are concerned, with our long history of rendering religious, educational, medical, social and humanitarian services to the nation and its citizens, we assure our political leaders of our continued support and prayers for the administration at all levels, as well as our commitment to discharging our civic responsibilities to the country in most peaceful manner."
The Amir prayed to Allah the Almighty to continue to guide our leaders and strengthen them with the sound health and political will necessary for realizing good- governance, development, prosperity, peace and happiness of the citizens and the nation.
On behalf of the Ahmadiyya Muslim Jama'at of Nigeria, he congratulated the President elect, Ahmed Tinubu and the Vice-President- elect, Alhaji Kashim Shetima, all the elected Governors, and National and State Assemblies, the Independent National Electoral Commission (INEC), all stakeholders and Nigerians for the success of the 2023 elections.
"May Allah be the guide and helper of all the elected and may He not make it a source of spiritual, moral and physical destruction for them. Amin." He concluded with prayers.