… As AIMS MEDIA Hosts Eid Get-Together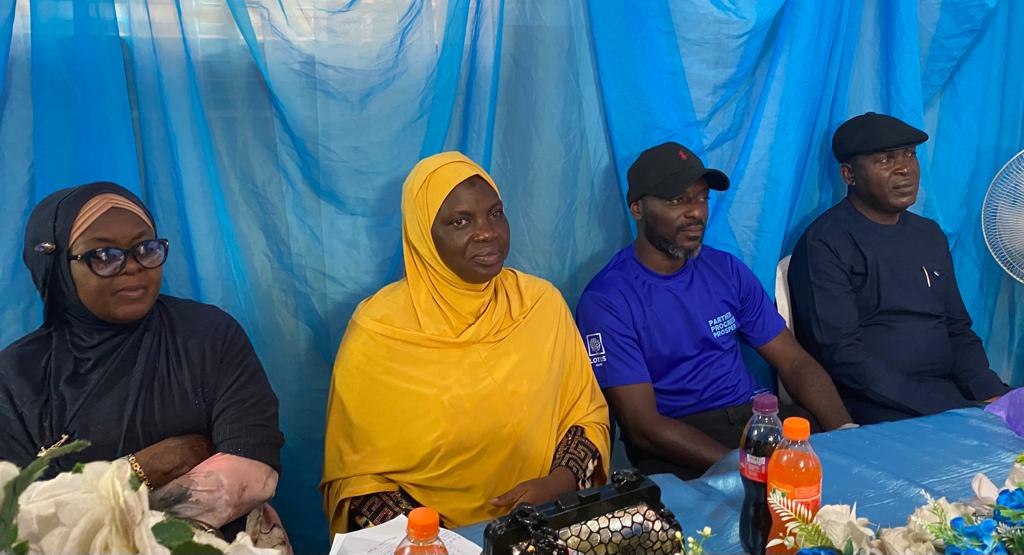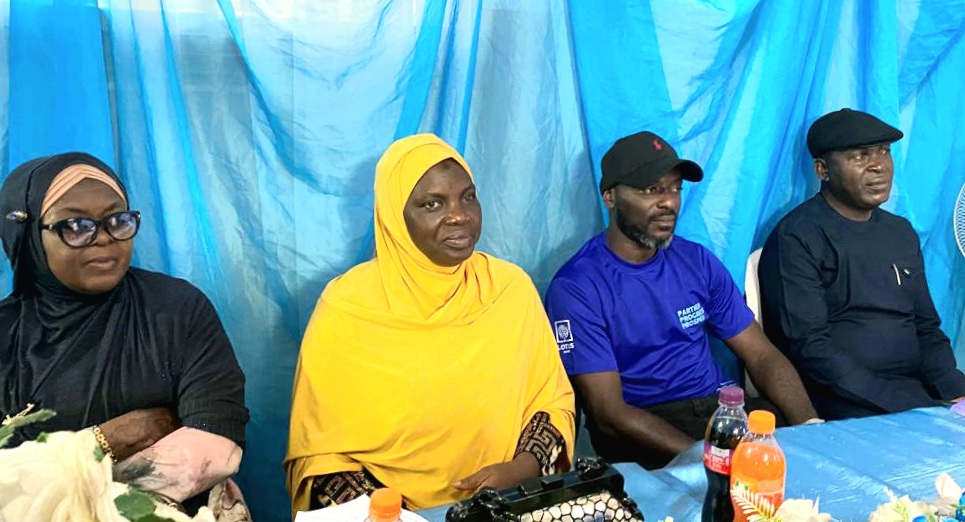 L-R: Hajia Aisha Yunus, Hajia Sekinah Lawal, Immediate Past Chairperson, Women Journalists, Lagos Chapter, Malam Bashir Salami, LOTUS Bank's Media Manager and Alhaji Ahmed Yunus at the event.
A clarion call has gone to Nigerian Muslims to totally embrace the Islamic banking opportunity because of its numerous benefits.
This advice was given at the 2023 family get-together organised by AIMS MEDIA with the support of LOTUS Bank.
It was indeed a very emotional atmosphere with children with special needs displaying their talents and skills alongside students from various schools at the event.
Speaking on behalf of the Managing Director of LOTUS Bank, Hajia Kafilat Araoye, the LOTUS Bank's Media Manager, Malam Bashir Salami made it known that LOTUS Bank will continue to support programmes that will keep children and adults alike on the ethical standards of humanity.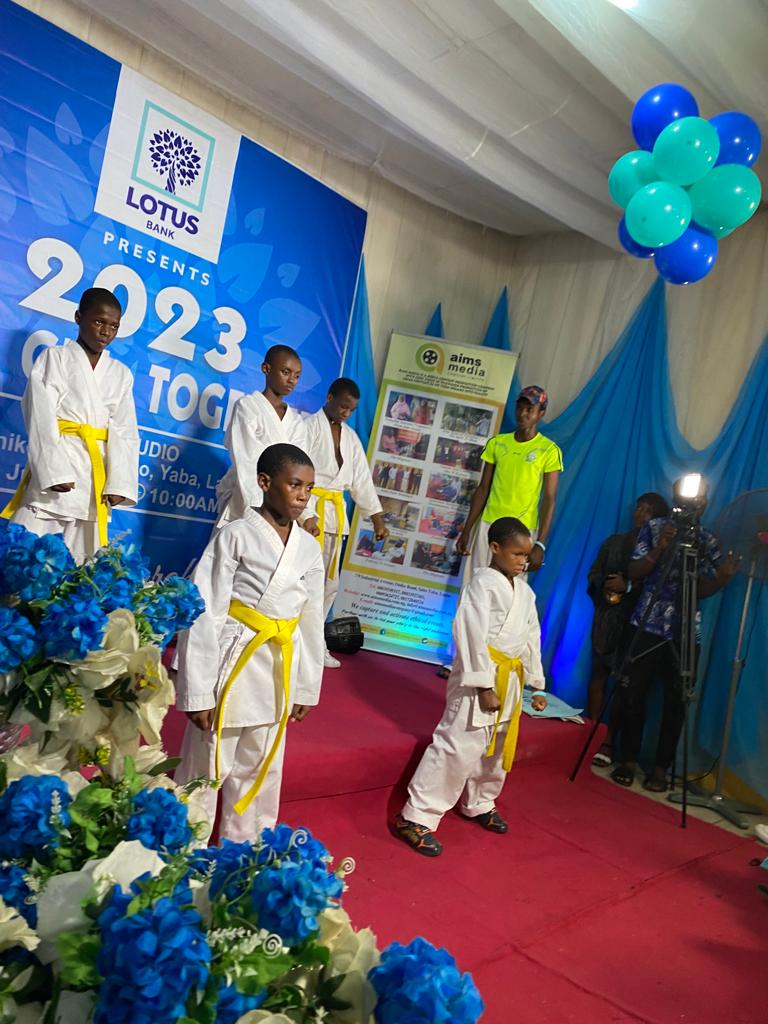 "Islam is so beautiful to the extent that it's an all-encompassing religion that takes care of family issues, education and how we manage our finances among other facets of life.
And that's why LOTUS Bank has been set up to promote the ethical way of banking without interest.
Making it easy for Muslims to grow financially. We are banking the Halal way because we cannot consume whatever is Haram to remain within the tenets of Islam." He explained further.
"We are excited to be part of this and will keep supporting more programmes like this that protect and promote the morality of our children and that will promote the deen of Islam to take its place in the world.
The idea of Islamic banking at LOTUS BANK is not to burden those in need but to share risks and profits." Malam Bashir concluded. 
In her goodwill message, the immediate Past Chairperson, Women Journalists, Lagos Chapter, Hajia Sekinah Temitope Lawal urged children to always imbibe the lessons of Eid-ul-Adha in their daily activities and be good ambassadors of Islam.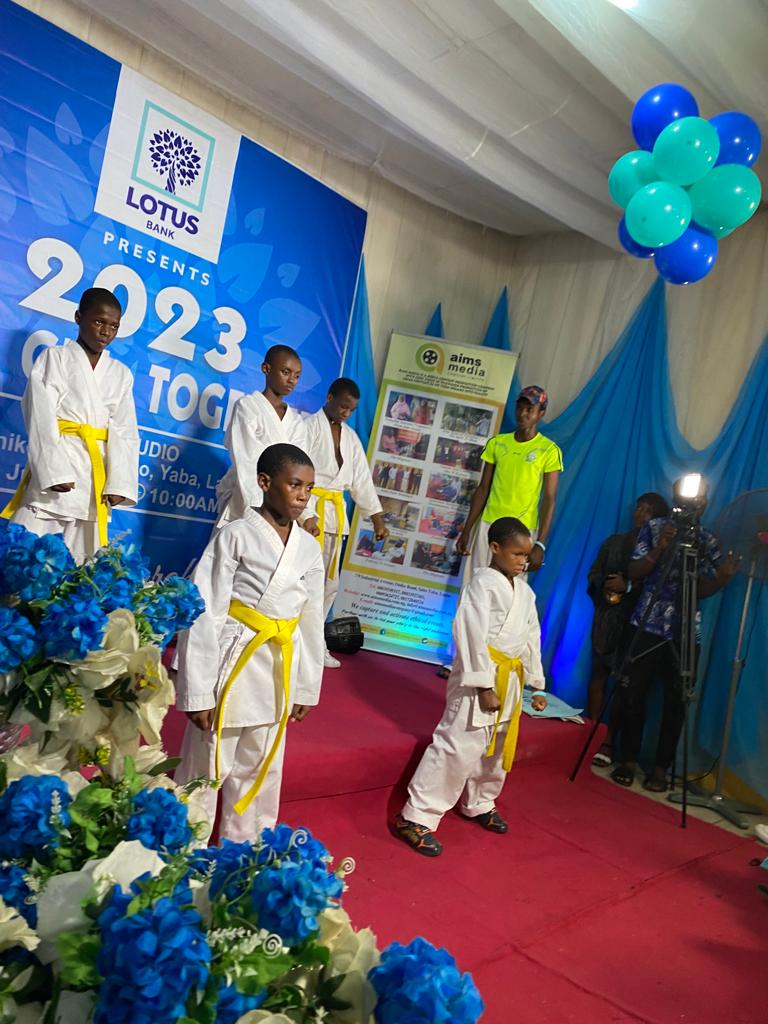 Children of Baytul-Sakeenah Orphanage during their Karate display.
In his sermon, Ustaz Muktar Oyetunji took the audience through the lessons of Eid-ul-Adha which include beneficial deeds, sacrifice as displayed by Prophet Ibrahim (A.S) and the great ultimate sacrifice involving life.
"So, this is a lesson for us that there's nothing too big or too small to sacrifice for the sake of Allah."
Another lesson he talked about is obedience. "The obedience is not just with Ibrahim and Ismail, the mother too (Hajarah) because she could have resisted and said why don't he use Sarah's son (Ishaq) instead of Ismail."
"Allah would never waste the deed of anyone and would never be unjust to anyone. So if anyone were to perform an act sincerely for the sake of Allah, He will reward the person adequately. In Suratul Zilzalah, Allah said whoever does an atom weight of good deed, Allah will reward the person and vice versa.
"As children, when you sacrifice in memorizing the Qur'an, excelling in school, obeying parents, Allah will reward you."
---
In their goodwill messages, Alhaji Ahmed Yunus and Hajia Aisha Yunus commended AIMS MEDIA, LOTUS Bank and other sponsors for the very impactful event.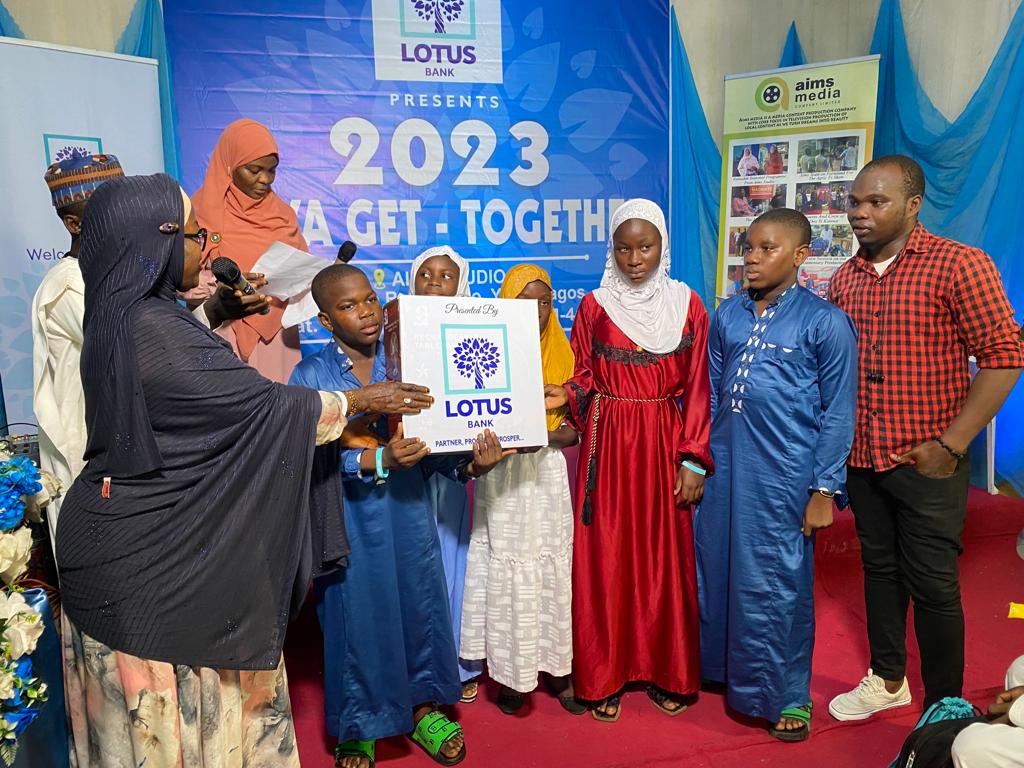 Hajia Aisha Yunus presenting gift to children from Wesley School for the Blind.
The last lesson Ustaz mentioned was  Taqwa (Fear of Allah). He therefore urged everyone to fear Allah in everything they are doing.
Highlight of the event was the presentation of gifts to special schools like Wesley School for the Blind, Atunda Olu Home among others, Baytul-Sakeenah Orphanage among others.
They had fun with indoor and outdoor games, quiz, Qur'an recitation by Fajr Centre Ikorodu, Eid drama by Great Khilafa, Karate by At-Tanzeel School and Baytul-Sakeenah Orphanage, Bouncing Castle, Treasure Hunts among others with children going home with various gift items.
The children expressed their appreciation to LOTUS BANK, AIMS MEDIA and other sponsors for organising the memorable event.
---