. Promises To Chart New Course For Lagos West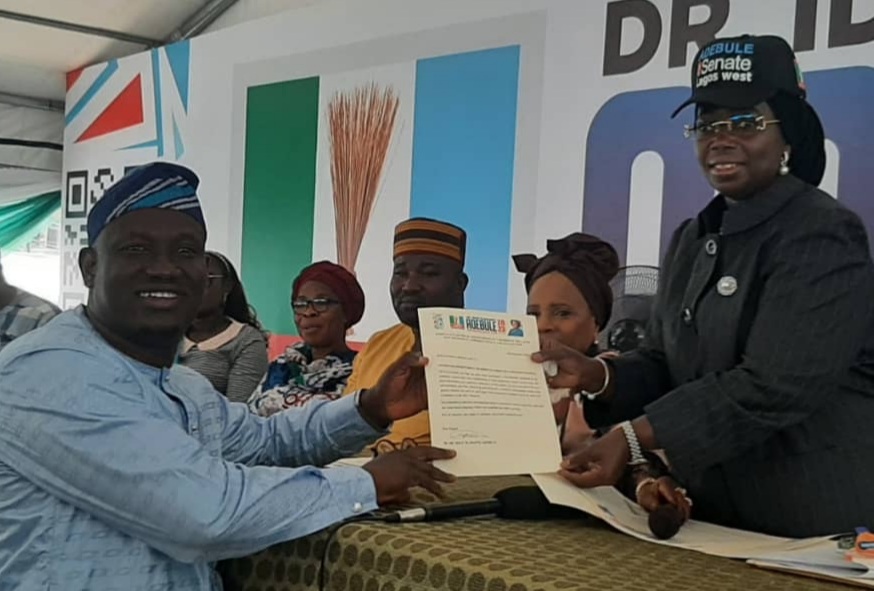 The campaign committee of the All Progressives Congress, APC, for Lagos West Senatorial District in the forthcoming elections, Dr. Idiat Oluranti Adebule, was officially inaugurated today in her campaign office located in Ikeja GRA.
The former deputy governor of Lagos State popularly called Mama West, commended members of the committee for their activities so far and urged them to redouble their efforts.
"By the grace of God and the support of the people, we are going to win this election. "
She advised them to be calm and patient while going about the campaign.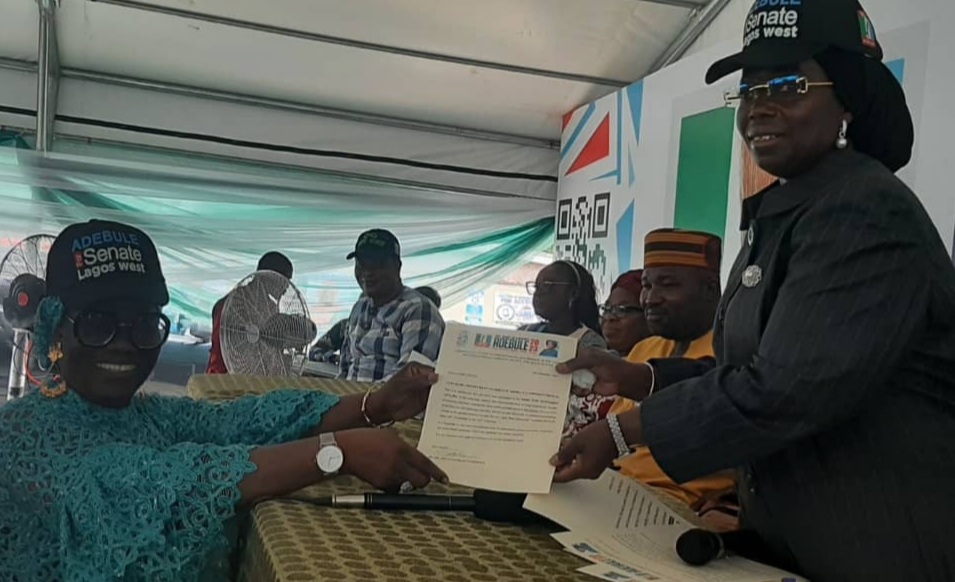 The committee members led by Hon. Rasaq Ajala were presented certificates of membership at the event witnessed by executive members of Lagos State APC.
"It has been a long and arduous journey since I won the primary of our great party in May. Ever since, it has been chain of intense activities with much of milestone political mileage covered. And to attest to that fact was the composition of campaign council which we are formally inaugurating today." Dr. Adebule explained.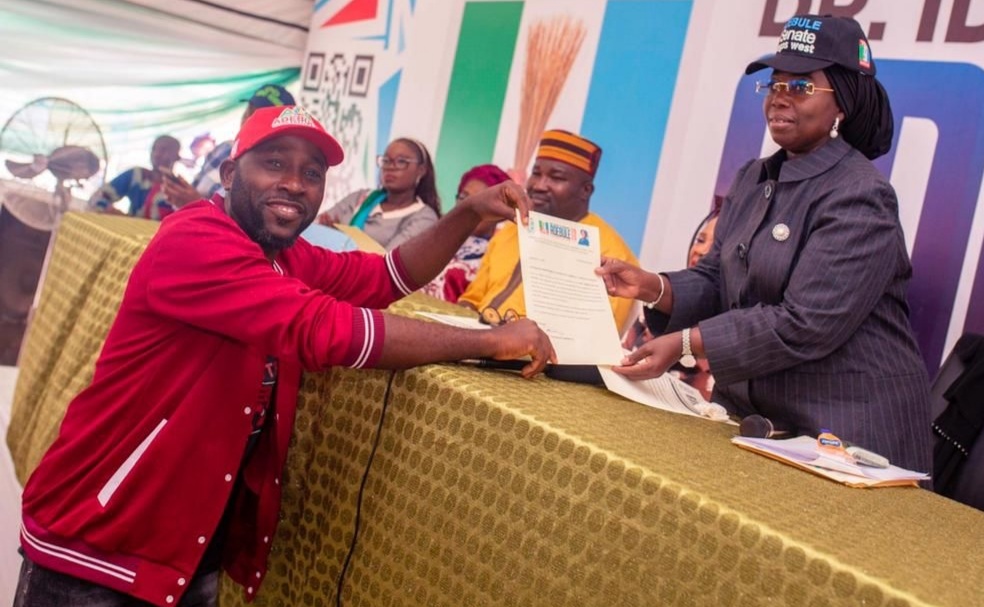 She described the committee members as able and dedicated, who already hit the ground running with wonderful and marvelous work done so far while urging everyone to take ownership of the project.
"This is a moving train and God will give us victory. Let us not forget the fact that there's strength in our cooperation and togetherness."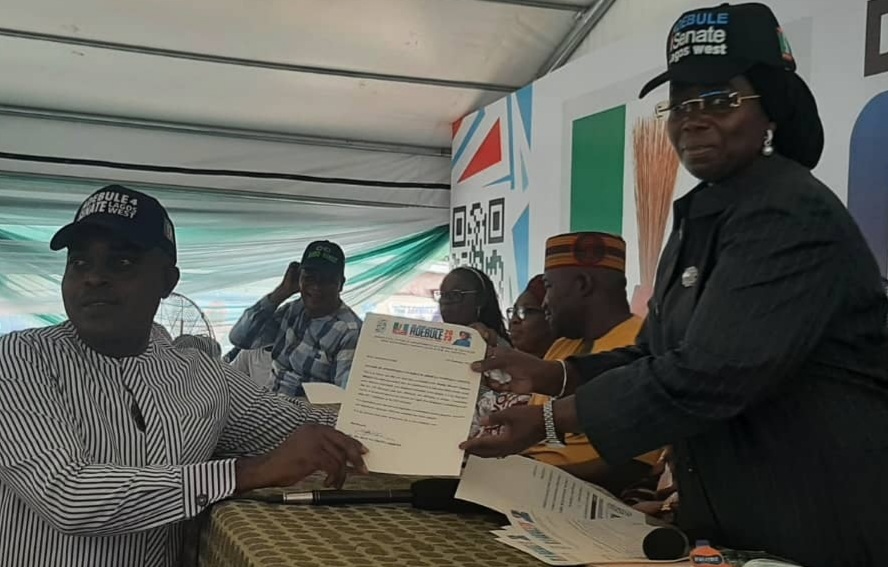 The campaign council needs all party members for the attainment of progress for our party.
Also, Dr. Adebule assured everybody that the winning team will collectively chart a new course that will give stronger hope for Lagos West Senatorial District, Lagos and Nigeria as a whole.
"With team work and great work culture, the mission will be accomplished by God's grace." She concluded.
The Conveners of Adebule Youth Ambassadors (AYA) Comrade Jamiu Ademosu better known as Emjay, Comrade Adigun Ibrahim and Rt. Hon. Azeezat Yishawu made the list of Adebule Independent Campaign Group.
They were inaugurated on Monday alongside other notable individuals drawn from the 28 LGAs and LCDAs in the senatorial District at Adebule's campaign office Oba Akinjobi Way, GRA, Lagos.
While Ademosu, who is the Vice Chairman Lagos West of National Youth Council of Nigeria (NYCN), Lagos State, got the portfolio of Assistant Director of Youth and Students, Yishawu who is the Speaker of the Nigerian Youth Parliament and Adigun, the coordinator of NYCN Odi-Olowo/Ojuwoye Local Branch will serve as members of the team.
Speaking on behalf of the support group, Ademosu described their inclusion in the team as recognition of AYA's tireless efforts to Adebule's campaign activities as he assured that the best is yet to be seen of the support group.
He assured that AYA will continue galvanizing support for Adebule's victory in the fast-approaching 2023 general elections.
Most notable individuals among the campaign council are the chairman of Odi-Olowo/Ojuwoye LCDA and Secretary of Conference 57 Hon. Rasaq Ajala who is the campaign Director-General, Hon. Saka Fafunmi; Deputy DG (Ikeja Division), Hon Abayomi Sadiq, Deputy DG (Badagry Division), Hon. Iyabo Obasa – Director Of Women Affairs, Risikat Hassan Asst. Director Of Women Affairs and Hon Akanbi Ade Saheed.
Members of the campaign committee include the following;
1. HON RASAQ OLUSOLA AJALA, DIRECTOR GENERAL
2. HON. SAKA FAFUNMI, DEPUTY DG (IKEJA DIVISION)
3. HON ABAYOMI SADIQ, DEPUTY DG (BADAGRY DIVISION)
4. HON. IYABO OBASA, DIRECTOR OF WOMEN AFFAIRS
5. RISIKAT HASSAN, ASSISTANT
DIRECTOR OF WOMEN AFFAIRS
6. HON AKANBI ADE SAHEED, DIRECTOR OF YOUTH
7. ADEMOSU JAMIU, ASST. DIRECTOR OF YOUTH
8. ADEBANJO TAJUDEEN, HEAD OF MEDIA.